The New Generation of Lyric Extend Wear Hearing Aids
August 25, 2021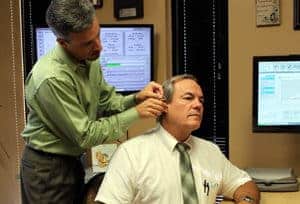 The new generation of Lyric extend wear hearing aids:
The Lyric has been in production for several years now, however its initial design resulted in significant fitting limitations. The device simply didn't have the flexibility and size options available to fit the majority of interested patients. Recently the third generation of the product was introduced. This generation offers some significant enhancements which have greatly expanded candidacy and made the Lyric a viable option for many patients.
How it works: The Lyric is comfortably placed deep in the ear canal, 4 mm from the eardrum. It is completely invisible and delivers natural sound quality round the clock for several months at a time (Avg. 2-3 months). It is used 24 hours/day through activities such as showers, exercising and sleeping-all with no daily hassles.
Advantages:
Natural Sound Quality: The Lyric is placed deep in the ear canal and uses the earlobe to naturally direct sound into the ear canal making for a very natural sound quality.24/7 hearing with less hassle: The deep placement and extended battery life mean no more hassles with removing and inserting the device or batteries. You can go about your daily activities without thinking, such as; showering, talking on the phone, sleeping, using headphones, etc. It may be good for people with vision or dexterity problems, or for people with very active lifestyles.
Completely Invisible: Deep placement makes Lyric hearing aids 100% invisible.
Keeps up with technological improvements: The Lyric is sold on a subscription bases, therefore each time the Lyric is replaced during the subscription year, the patient will be receiving the most up to date technology available.
High Satisfaction Rate: Successful Lyric users are among the happiest patients in our office.
Never Needs Repairs: If a Lyric fails for any reason, it is replaced with a brand new device.
Limitations:
Candidacy: Although the most recent version of the Lyric has greatly improved candidacy, approximately 40% of patients will not be candidates due to severity/type of hearing loss or ear canal shape/size.
Cannot be replaced by the patient: Proper and safe insertion of a Lyric requires a certified and trained professional, therefore when the Lyric battery dies or the device fails (avg. 2-3 months), it is replaced in office. For those who spend time out of town, the device can be replaced by the nearest certified lyric professional.
Flexibility: To maximize battery life, the Lyric circuit has less fine tuning ability than traditional premium hearing aids making it difficult to fit severe or atypical hearing losses.
Long Term Costs: The lyric is purchased on a subscription basis, which means you are purchasing a year's worth of devices at a time. Similar to leasing a car, the initial cost may be less. However, over time with subscription renewals, the device may become more expensive than premium hearing aids with a 4-5 year life span.
In summary, the Lyric is not appropriate for everyone, however it may be an excellent option for those who desire the convenience, invisibility, ease of use and clear-natural sound quality of an extend wear device. If you are interested in finding out if the Lyric is an option for you, please contact our office at 760-341-3188.