Hearing Test
Hearing Test: simple screenings are performed to determine the general degree of hearing/loss and whether more in-depth testing is necessary.
Diagnostic Hearing Test: a diagnostic hearing test is performed to determine the degree and type of hearing loss (nerve loss or conductive loss). It includes air and bone conduction, speech reception thresholds, and speech discrimination testing. In some cases, the evaluation may include Impedance testing (a test of middle ear function). A diagnostic hearing evaluation is critical when determining hearing aid candidacy and possibly the need for a medical referral.
Partial Testimonial...
Thank you so much for giving me the opportunity to have my hearing back. Thank you also for all you have taught me about hearing loss and hearing aids.
Pat P.
Dr. Walz of Desert ENT describes ear anatomy and function and common causes of hearing loss:
To watch more videos, see our video page.
Hearing Aids Consultation: during a consultation appointment, the patient (and preferably a family member) meets with the Audiologist to discuss in detail the hearing test results, individual listening difficulties, listening demands, and potential treatment options including assistive listening devices and hearing aids. The consultation is designed to be informative. Under no circumstances is the patient pressured to purchase hearing aids and thoughtful consideration and discussion with family members is encouraged.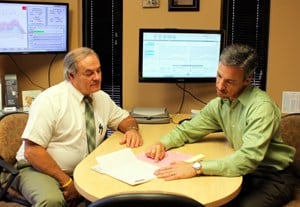 Hearing Aid Fitting and Follow Up (60 day trial period):  If after the consultation a patient chooses to purchase hearing aids, they will later be seen for a hearing aid fitting appointment.  During this appointment, the audiologist programs the devices specifically for hearing loss and spends ample time instructing on use and care.  The fitting appointment is very important however, regularly scheduled follow-up adjustments are critical to success with hearing aids. During follow-up appointments, programming adjustments are made based on real-life patient experiences.  If for any reason the patient is unsatisfied within the first 60 days, they may return the devices for a full 100% refund.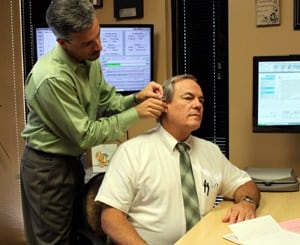 Visible Speech Mapping (VSM):  to verify proper hearing aid settings, VSM is a "real ear" measurement system that can measure the audibility of speech across the frequency spectrum by placing a microphone within the ear canal near the eardrum. This technology is useful in verifying that the hearing aids prescriptive settings are providing optimal audibility for speech.
Hearing Aid Repair: the Hearing Institute employs an Audiologist Assistant specifically trained in service and repairs.